A Look at the Rams' Defense, from a Fantasy Perspective
IDP Zone
-- a fantasy football site here on the FanBall network that specializes in Independant Defensive Position leagues -- have unveiled their "
Ten Bold Predictions
" for the NFC West's defensive players. Four Rams figure prominently in these predictions. Here are the relevant clips, though I highly recommend
clicking through
to read the full back-and-forth debate on each player.
James Laurinaitis will finish the year in the top-fifteen LBs in the fantasy world.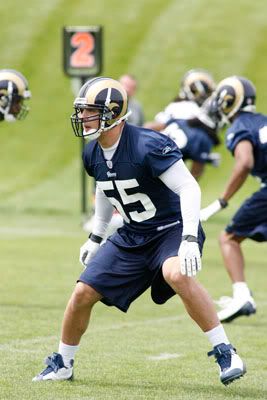 I see Laurinaitis as one of those rare players that in years to come we will be talking about as one of those consistent, All-Pro style players that has zero character issues and gives 100% on the field. In dynasty drafts teams that pass him by in favor of more athletic or stronger players will wish they had gone with the guy that wants it more.
It's good to see optimism about Laurinaitis. In my last guest spot on
Turf Show Radio
, we openly discussed whether the linebacker position was one of the easiest ones for a raw rookie to step in and have immediate impact, leaning towards a "yes." Corroborating this thought was a quote from Dan Patrick's
recent interview with Brian Urlacher
:
"I was watching some film of my first three seasons... I just ran to the football. I made a bunch of plays like that."
Considering that he won Defensive Rookie of the year and made the Pro Bowl that season, I'd say so.
Will Witherspoon will be a Top 20 LB this season.
Witherspoon is reportedly in full health and is back to his natural weakside linebacker position. Unlike the N.Y. Giants, new head coach Steve Spagnuolo has only one stud defensive lineman in Chris Long. Middle linebacker Jim Laurinaitis and Witherspoon will have a lot of tackle opportunities as the line struggles to make plays.
There is a lot of support for this statement. Witherspoon excelled on the weakside, both with the Panthers and in 2006-07 for the Rams, averaging nearly 100 solo tackles per season, and picking up 10 sacks combined. Assuming he is at full health, there's no reason to believe he won't immediately contribute at those levels again.
Oshiomogho Atogwe will be the No. 1 DB in fantasy football.
IDP junkies like me often wondered what Atogwe's numbers would look like if a defensive coordinator came in and used him closer to the box. Someone like the Philadelphia Eagles' Jim Johnson or the Giants' Steve Spagnuolo, for instance. Well, the perfect storm has come to St. Louis, the Johnson/Spagnuolo defensive scheme is in place with the hiring of Spagnuolo as the Rams' head coach.
This will be interesting to see. Atogwe is not as physical as a Brian Dawkins, the Eagles' perennial star at safety, and Spagnuolo has already brought in James Butler from the Giants, who he may implicitly trust more in the higher-risk position closer to the box. Moving the safeties up would also show much more faith in the Rams secondary as a unit than last year's performance would seem to warrant -- and in particular our weakest corner, Tye Hill. He looks as though he will continue to need deep safety help over the top all season long, which might cut into this projected productivity.
Chris Long is a Top 10 defensive lineman in 2009.
New head coach Steve Spagnuolo brings his attacking 4-3 one-gap man-to-man attacking scheme to the Rams. It's the same defensive game plan that gave enough opportunities to Michael Strahan, Osi Umenyiora and Justin Tuck that they were able to convert into elite numbers. I believe that talent and opportunity have come at a crossroads in St. Louis and Chris Long will be standing at the intersection ready to shine.

They promised "bold" and this prediction delivers. All I can say is "let's hope so."

True fantasy football leagues don't draft team defense. There's no worse copout in the game. Drafting team defenses is basically admitting "I don't know and don't care who wears jerseys between #30 and #79." But, I'm not here to put down your sissy FF league -- I'm here with some interesting NFC West predictions, because the guys at