Divisional Playoffs: Scouting Reports Part 2
Cowboys at Vikings (-3)
Heavy must be the crown for the man on the
Vikings Throne
, because it currently sits empty. But our man Brandon has weighed in on several of the running themes for the Vikings all season, and two are the biggest cause for concern among the slightly-favored Vikes: Does Brett Favre have enough left in his legs? And what happened to the monster Adrian Peterson? His early answer:
Patience and hope
. Meanwhile, pundits are split on whether Favre or Peterson should be feeling the pressure more.
SI_Ross_Tucker
Judgement day for Favre & Vikes today. They need to win today- at a minimum -for his signing to have been worth it.
MoveTheSticks
All the talk is about how the Vikings need to throw it... Am I crazy thinking just the opposite??? Peterson has to be the guy in my opinion
All eyes have been on Favre, but I think there are more questions around AP. Since the bye week, Peterson has gone seven straight games without cracking 100 yards, his yards per carry is sub-4.0, and he's fumbled five times, losing four. His perception as a tackle-breaking machine is fueled by three monster games against Detroit (twice) and Cleveland, where he
averaged
better than five yards after contact per carry. Those games were a long time ago, in football terms. (Stats via
ProFootballFocus
.) Coming back to a Vikings Throne observation in early December that still holds true:
Remember, without Adrian Peterson forcing defenses to load the box, Favre may not be having the season he's having and the Vikings may not be 10-1.
-- "
Lots of Speculation
"
Without him at full strength, they may not advance past this game. Across the aisle, at
Respect the Star
, we have a quiet confidence but a wariness based on the last 13 years of playoff futility.
What does a four game winning streak – two over the Eagles – get this Cowboys team? A crowded bandwagon for one. The term cautiously optimistic does not seem to apply to many experts on various networks who are proclaiming a Cowboys victory this Sunday with little hesitation. Well you will not find that here. Sure, I am confident that this team can emerge victorious on Sunday. However, after suffering 13 years of playoff futility, I will approach this game with extreme caution.
-- "
Bandwagon is Becoming Crowded
"
RTS offers their pros and cons of the matchup, and concludes that the Cowboys's pluses at quarterback (yes, really), linebacker, and in the rebuilt secondary will be enough to lead the team to victory. However, we can't ignore this caveat:
The Cowboys have not allowed a hundred yard rusher all year. That stat is a bit deceptive because they did not face a top back all season long. This will be a big test for the guys inside – namely Bradie James and Keith Brooking. They have to get off blocks, and stop AP before he reaches the secondary. For the Vikings to win, they know they have to establish the running game. It will be a huge test for this front seven.
-- "
Cowboys hold the edge at Quarterback
"
---
Jets at Chargers (-7)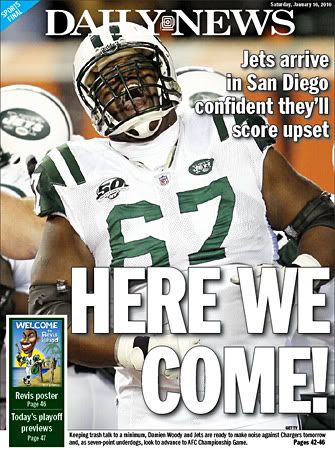 Three weeks ago,

Turn On The Jets

correspondent Joe Caporoso pronounced his team's playoff hopes a "

pipe dream

." But when the Colts pulled their starters, they also unwittingly unleashed the unholy keyboard of FanBall's winner of the "Blog of the Year," and TOJ has blogged up approximately a thousand words per minute since then.

We have heard about it all week…the Chargers struggle stopping the run and the Jets run the ball better than anyone in the NFL. Sometimes things are just simple, the Jets need to be themselves and do what they do on offense. ... The Jets pass rush must get to Philip Rivers early and often, while still being to defend against the screen pass. Darren Sproles has the ability to kill them if they don't account for him coming out of the backfield. Honestly, he is player I am most worried about on the San Diego offense.

-- "

Jets vs Chargers: Game Breakdown

"

I love the Jets attitude heading into this game. They sound confident that they are going to be the tougher team and run the ball down the Chargers throat. My cousin reminded me of the Jets/Texans season opener, when most people were picking Houston and Rex Ryan gave a huge speech the night before the game on how the Texans were a finesse team and the Jets were going to punch them in the mouth…we all know how that turned out.

-- "

Friday Thoughts on Jets/Chargers

"

Meanwhile, the quote-unquote Hottest Team in the Playoffs are confident if for no other reason than that their injury list is exactly one player long heading into this contest. With no other excuses, if they don't win expect the blame to fall on their head coach.

With a healthy lineup and his core group of players all playing their most cohesive football of the season heading into this postseason, the pressure cooker has definitely ratcheted up a notch for Norv Turner. Although he would never show it, Turner knows that a lot is expected of this team and if they fail to come through the fallout will most likely be on his head. ... The Bolts are well aware of the blitzing that the Jets and Rex Ryan like to run in their defensive system, but they are welcoming the challenge. Rivers addressed this earlier in the week saying: "It's as good of a blitz package and scheme as we've faced this year. This group does a lot of different things that we have to be prepared for. We feel like we will have a plan and scheme together to handle all of those things. You're playing against a good team and that's the fun thing about the playoffs; it's a lot of good verses good out there and whoever can execute the best will be on top." -- "Bolts-Jets playoff preview extravaganza"

I actually like the Jets' chances to pull off the only upset of the weekend, or at least give us a watchable game after three dispiriting blowouts. One thing is for sure, if the Jets do win, it will increase the Rams fan chorus crying out "We should have drafted Marc Sanchez!"

The running theme so far this weekend has been the value of rest -- a poke in the eye to all of us who ridiculed the Colts and Saints for laying down in the last weeks of the season. Neither team showed much rust, with the Saints looking every bit the Greatest Show II team that we saw midseason, and the Colts methodically, surgically, imposing their will on their opponents. This weekend introduces two new well-rested heavyweights -- the Vikings and the Chargers. Do the underdogs have a chance against either? Let's check in with our FanBall correspondents: