Three potential villains on the 2010 Rams
top five Rams villains
). In doing so, they've undoubtedly laid a better foundation for future success. But they've also uprooted a lot of fan unrest and anger that has built up over the last three years. (22 losses in 24 home games will do that.) And anger, like a weed or a virus, is easy to displace but hard to kill. The players that are gone now fit neatly into three categories: mistake signings that were doomed from the start (Drew Bennett et al), players who couldn't live up to their potential (Alex Barron, Richie Incognito), or players whose potential was never as high as their hype (Tye Hill, Adam Carriker). But those weren't the reasons we hated them. Hatred in the mind of a fan is a funny thing. It's emotion borne of the passion and pride that we have in our team. You can't hate someone just for not being very good -- you have to find (or assign) an underlying reason, a fundamental character flaw, that explains why. We look at Drew Bennett and see avarice and greed, a player brazenly stealing our money. We look at Barron and diagnose laziness and an I-don't-care attitude, a cancerous growth that spreads quickly and kills hope. We look at Tye Hill or Adam Carriker or Joe Klopfenstein and call him an imposter, a boy in man's clothes who's pranking us, fooling us into ever believing that they were for real. And worst of all, we hate it when the team doesn't want to see these flaws that we see so clearly. These players may be gone, but the seeds of frustration still lay fallow in the fan base, ready to sprout and attach themselves to new targets -- especially if the Rams struggle again. Here are the three figures I see potentially in the fans' crosshairs.
Fred Robbins
The Rams haven't made many splashes in free agency, looking to players like Na'il Diggs and Hank Fraley to mostly provide useful depth and help shore up a position until next year's draft. Fred Robbins would seem to fall neatly into the same category, but he will likely get increased scrutiny for a few reasons: 1. He was hand-picked by Spags after being a successful (though not very dynamic) part of Spagnuolo's scheme with the Giants. 2. He's likely to get a lot of playing time at the long-cursed defensive tackle spot, stepping into the position played by Adam Carriker, Jimmy Kennedy, Claude Wroten, et al. 3. He's not Ndamukong Suh. In reality, Robbins will likely be a plugger, making a few run stops and falling into a few sacks, but whose job is mostly to occupy blockers to free up Chris Long, James Laurinaitis, or one of the rookie rushers. It's a somewhat thankless job that rarely shows up on the stat sheet, but if the Rams start giving up big gains on defense, Robbins' name will start hitting the airwaves.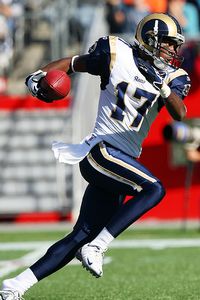 Donnie Avery
This is a huge year for Avery, perhaps a make-or-break in his career with the Rams, as he attempts to build chemistry with Sam Bradford and give the Rams a dynamic downfield weapon. He's entering his third year as a pro, the point in time where the switch is supposed to come on for wide receivers. He's had the target on his back for a while, ever since Billy Devaney passed up DeSean Jackson and Eddie Royal to make Avery the first wide receiver taken in the 2008 draft. And last year's injury-marred season -- starting with a sprained toe in the preseason, and continuing with a bad shoulder that seemed to get aggravated on every hit, gave fans another reason to be skeptical. It's worth noting that Avery was the only Rams receiver to start all 16 games, and that he led the team in receiving yards and touchdowns, despite working with three different starting QBs. He also had a much better sophomore year than Eddie Royal, who got lost in the Denver quarterback shuffle and whose pro prospects are suddenly in doubt. And this offseason, Avery has rededicated himself to conditioning, and has added a few critical pounds of muscle to better gird his body against the rigors of the NFL season. And with Mardy Gilyard coming aboard as a dynamic interior receiving threat, Avery should be singled up more often on the intermediate and deep routes that are his bread and butter. The potential is there, and Avery could just as easily become a hero or a villain as this season progresses.
Sam Bradford and Tom Condon

I don't expect the Bradford contract to become a problem, and his diligent offseason work --

running his own video sessions and conference calls with Rams coaches

, even before OTAs began -- should put to rest any lingering questions about whether he wants to play in St Louis. But despite putting in all the work, Bradford is still not officially a Ram until the ink is dry on his contract. Last year, Matt Stafford set a rookie contract record in guaranteed money, with the Lions agreeing to pay him nearly $42 million dollars come hell or high water, before Stafford had taken a single snap in practice. Bradford and Condon will naturally be looking for even more, while also aware that this may be the last giant guaranteed rookie contract for some time, given the uncertainty in the NFL labor market. The Rams' early schedule is filled with games against beatable opponents, and an ideal start to the Bradford era would have him on the field in these contests, getting valuable experience and earning his first NFL win before leaves (and hopes) start falling. But if the Rams play those games with AJ Feeley, the outcomes are almost meaningless, since Feeley means so little to the future of this team. Any contract dispute, any holdout, or even any significant time holding the clipboard for Bradford that prolongs the AJ Feeley portion of this season will be painfully felt by Rams nation. But more importantly, Bradford will have to show that he can take NFL hits and bounce back up -- if his surgically repaired shoulder can't stand the punishment that even a well-protected quarterback takes, then this soon-to-be record-breaking contract will become a giant albatross for the Rams and their new owner.

The Rams have been working hard to cleanse the locker room, getting rid of malcontents and erasing personnel mistakes made by the previous Zygmunt regime (who, not surprisingly, ranks on my list of