Packers vs. Rams: Three Things to Watch For

The St. Louis Rams (0-4) return from their week 5 bye for a matchup at historic Lambeau field against the Green Bay Packers (5-0). The Packers are coming off of a week 4 game against Atlanta where they fell behind to an early 14-0 deficit. They were able to overcome that, beating the Falcons 25-14. At 5-0, this is the Packers best start in 50 years, and they are on an 11 game winning streak, dating back to last year.

The injury bug continued to bite the Rams over the bye week. Receiver Danny Amendola, due to a setback in his recovery, was found to have a torn triceps muscle and was placed on injured reserve. The Rams also lost cornerback Bradley Fletcher for the season to a torn ACL after he got tangled with Mike Sims-Walker in one-on-one drills in practice. Former Raider WR Nick Miller replaced Amendola, and is expected to fill contribute with kick/punt return duties. Former Giants CB Brian Jackson was also signed, and is expected to contribute on special teams and provide much needed depth in the defensive backfield.

In the week 4 matchup against the Washington Redskins, the Rams continued their struggles on both sides of the ball, albeit the score wouldn't reflect that. It was simply another week of quarterback Sam Bradford taking hit after hit, with the Redskins amassing seven sacks. Brian Orakpo and rookie Ryan Kerrigan wreaked havoc in the Rams backfield, barely giving Bradford time to make a three step drop, let alone a five step drop. The task is no easier this weekend, facing outside linebacker Clay Matthews on his home turf. The Packers defense is ranked #3 against the run. Their one "weakness" may be the pass defense, currently ranked 30th in the league.

On offense, the Packers are nothing short of a juggernaut. They are currently ranked #4 in total offense and passing yardage, albeit only #22 in rushing yardage. Quarterback Aaron Rodgers is having his best year to date, starting by completing 129 of 180 passes for 71.7% of his passes for 1,721 yards, 14 touchdowns, and only 2 interceptions.

As always, there are three things to watch for in this week's matchup.




Unleash the Beast

Historically, running back Steven Jackson has done very well coming off of bye weeks. In the last three seasons, he's averaged 97 rushing yards, 48 receiving yards, and has 2 touchdowns (both rushing). Those games include a win in 2008, a close loss to the Saints in 2009, and a heartbreaking loss to the 49ers last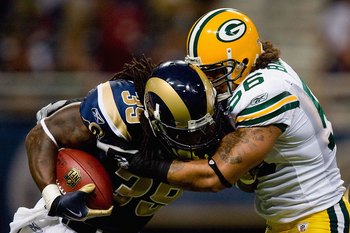 year, that many blame on the refs (There was a VERY questionable pass interference penalty called on the defense, placing the 49ers in field goal range with little time on the clock).

According to the St. Louis Post-Dispatch, Steven Jackson is finally 100% healthy. If the Rams are to be competitive, they need to ride Steven Jackson like the Secretariat. Every play, the Rams need to get the most out of the play clock that they can, and be successful running the ball. This will effectively keep Aaron Rodgers and that vaunted Packer offense off the field.

Although this is week 5, Steven Jackson should still be fresh. He had two carries in game one, sat out a week, four carries in week 3, and 17 in week 4, followed by a bye week. In those carries, he's averaging 5.4 yards per carry. His legs have to be the freshest they have ever been in week 5. The Rams needs to take advantage of this and use Jackson's talents to keep the Packers off the field.


Time for Some Zone?

Coach Steven Spagnuolo's primary defense philosphy is press man coverage. This style works great when you have the personnel to pull it off. This isn't a luxury that the Rams have with so many injuries at the cornerback position. Due to this, and the fact that the Rams have three cornerbacks that are new to the team in recent weeks (Rod Hood, Josh Gordy, and Brian Jackson), it's possible that the Rams may look to play more cover-2 or cover-3 defense.

The Tampa-2 defense is a variation of cover-2 coverage. In the Tampa-2, the middle linebacker drops into a deep zone coverage when a pass play is read. What this helps to do is prevent the big passing play, something the Packers are very good at executing. Middle linebacker James Laurinaitis has drastically improved his pass coverage skills, and is a solid pass defender. By dropping him into a deep zone coverage, it may also help cover for any deficiencies in the defensive backfield.

Another advantage to sprinkling some cover-2 defense in against the Packers is that it allows the cornerback to be versatile, playing the run, short pass/screen, and confidence to play the deep pass because of the safety coverage over top.

The advantage of the cover-3 defense is it would allow Spags to do something he liked to do in his man coverages, which is bring a safety up in the box. This helps to ensure good run defense with an extra defender in the box, while not sacrificing coverage downfield due to the combo coverage of the cornerbacks and other safety.

Both of these coverages require the Rams to...


Control the Line of Scrimmage on Defense

In the first quarter of the season, the Rams pass rush and run defense have severely regressed. Defensive tackle Fred Robbins has seemed like a ghost of his
former self, and defensive end James Hall has not been the same since injuring his back colliding with DE Chris Long on a David Garrard sack in the preseason. If the Rams are going to have a chance of winning this game, the defense simply has to be better. Primarily, they have to take advantage of injuries and youth at the tackle position for the Packers and hit Aaron Rodgers. This is especially true if the Rams do as suggested above by sprinkling in some zone coverage. The less time the defense gives Aaron Rodgers to go through his reads and find a receiver, the better chance the defense has of either getting a turnover, or getting Rodgers and the offense off the field.

In addition to that, the run defense needs to improve drastically. Someone ... ANYONE ... tackle a running back. The Rams currently rank dead last in the NFL in rushing defense, allowing almost 180 yards per game. That is simply unacceptable. That is BEYOND unacceptable. Outside linebackers Brady Poppinga and Ben Leber need to make an appearance. Robbins and fellow defensive tackle Justin Bannan need to get a push up the middle, in addition to making tackles.

Everything with the Rams defense starts up front.



Prediction:

As much as I hate to say it, there is no way in hell I can see the Rams winning this game. My heart tells me they'll come out and play well, making it a good game. My head wins out this time. This one could get ugly.

Packers win 40-17